Here's an easy and in-depth way to upgrade your Samsung Galaxy I5800L, running 2.1 Eclair to Froyo 2.2. Sadly at this time Samsung hasn't officially made Froyo available for the I5800, but luckily we can do it ourselves!

No rooting needed.


What you will need:
Get the ODIN & OPS file Here
I STRONGLY RECOMMEND YOU BACKUP YOUR PHONE'S DATA, CONTACTS, ETC.

To backup your phone information if you encounter problems when doing this upgrade:
KIES Software(comes with your phone). Or you can download it from Samsung's website here.
(If you Encountered major problems and need to downgrade back to Eclair Here's how)

Ensure your battery is fully charge.

Now, factory reset your phone: *#*#7780#*#*
Or go into Settings>Privacy>Factory Data Reset.

Here's a helpful tip/step that most other tutorials don't tell you.
Remove your SIM and SD(if you have one) card from the phone. This may save you some complications.
It will avoid any hangups or stalls, like I've experienced, almost leaving me helpless.


Right, now let's get to actually installing Froyo.


First check your firmware *#1234#, write it down, store it on you computer, in case you need to restore later.


Load up "ODIN Multi-Downloader" (I5800_Odin_Multi_Downloader_v4.252.exe).
If you're on Win7, a popup "IMAGE PATH [chinese writing]" keeps opening. It's annoying, but it shouldn't do anything to your install. Just keep clicking OK.

1. Select "
One Package", "Auto Reboot", "Protect OPS" alone.
(again Win7 users, ignore the annoying popup)

2. Select the
OPS file you downloaded. Click the "OPS" button. Select file "apollo_0531.ops".

3. Now go to the bottom option "Select Integrate Package..." and select the 2.2 Froyo (.tar) file your downloaded. It should be one file.

With the "One Package" button, select your .tar file.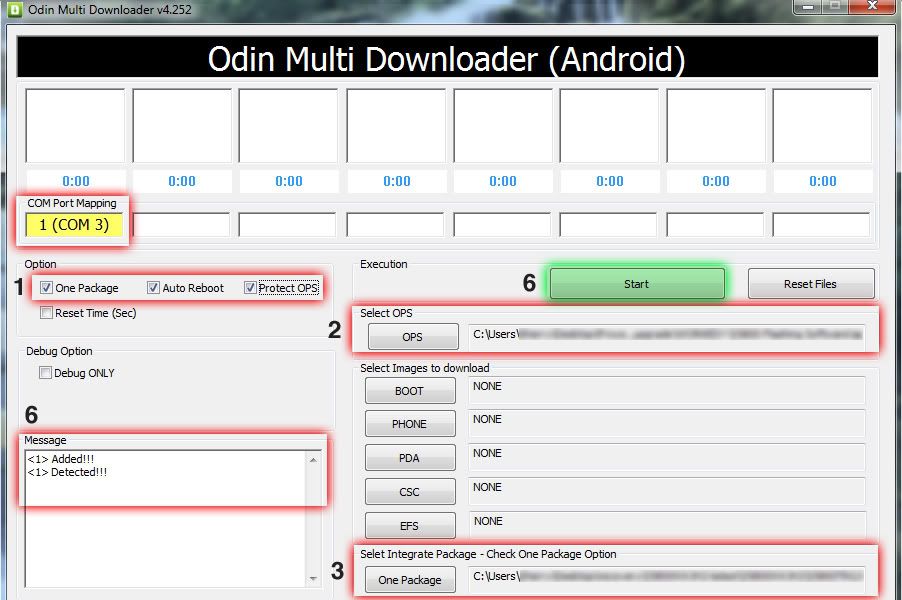 4. Here's the tricky part, that's not so tricky. Switch off your phone (hold the power button "Power OFF"). Remove the battery, so it doesn't boot up automatically. Then hold the "Home + Volume Up + Power" buttons simultaneously.

Until the screen shows the android icon with probably the "Force Upload by Button Pressing" words.
(If those combination buttons don't work, try "Volume Down" or "Volume Up + Down" instead).




5. When the "Force Upload" screen appears, like the image above, connect your phone to the computer with the USB cable provided and let windows detect the drivers for the phone and install them automatically.


6. Once the drivers are loaded, and the phone is detected by ODIN as shown, click start. The phone will load data from the ODIN application you supplied and reboot itself, until you see the Home Screen load successfully. It takes a while(5-8mins), but way shorter than say loading a Windows OS.

Do not uplug the device until you see the Home Screen and have successfully unlocked the phone.

Note.
If you phone hangs, or stalls, you should resort another 2.2 firmware, or downgrade.

7. Enjoy your semi-new phone! It feels new and refreshing to have an updated firmware for your phone. Especially since it's free!


Here are some Key new Features in Froyo
Colorful menu/settings interface.

You can Install apps to the SD CARD (most, not all).

And the ability to play FLASH content Natively (websites, flash native games, online videos etc.).

General Performance boost in processor, supposedly Better Battery life and Ram management.

Please leave comments below!
Thanks...